Resonance
Resonance is an attempt to express the imperfect, yet emotional tone of our memories through the element of sound. It is a live, motion-scored performance of a memory that has already occurred. Using wireless motion capture technology, two dancers were recorded during a duet. A single dancer recreates the original performance solo, moving to the memory of her partner. Both her present movements and her remembered interactions of the original performance are translated into sound, creating an entirely unique score with each dance.
 
PROCESS
Resonance, for us, is an examination of memories, particularly those involving other people in our lives and how the factual distortions of those memories create an evolving emotional landscape over time.
How precise is our muscle memory versus our neurological, particularly in the case of trained dancers? How does our perception of ourself and the other affect the emotional tone of a memory? To what extent do the facts of a memory matter affect the quality or resonance of our experience of it?
Our dancers, Kyla and Sylvana, came into the studio to pre-record their choreographed duet using the Perception Neuron wireless motion capture system, as shown in the photos below. Their duet was mostly a mirrored dance of one another to highlight the existence of a similarly shared memory. The dance was also choreographed to include many dynamic motions, relevant to our sound design.
Using this footage, we also created a trailer as a teaser for the performance, as shown below.
Perception neuron - Unreal - MaxMSP - AbletonLive
SOUND DESIGN
The sound design for this project was by far and away one of the most challenging aspects of this project. We wanted to generate sounds and music that were interesting for the audience, but were not necessarily beholden to keeping the structures of a traditional song in place.
We also thought a lot about the lifecycle of a memory in planning the sound. We noted how, as time progresses, the physical details of a memory lessen, but the emotions associated with such a memory remain strong, if not greatly intensify.
To keep the concept clear throughout the performance, we decided to do very few and simple mappings: hand height & speed. We also incorporated a bass that changes over time, but is independent of the dancer's movements. Each of the dancers were assigned different instrumental sounds and, essentially, the higher both hands are, the higher the note is; the faster the movement, the stronger the volume.
The relative resonance between the dancers was directly related to the velocity of the limbs [100 – Abs (v1 – v2)]. Thus if the dance resonates, the sound will become more distant, tranquil, and powerful.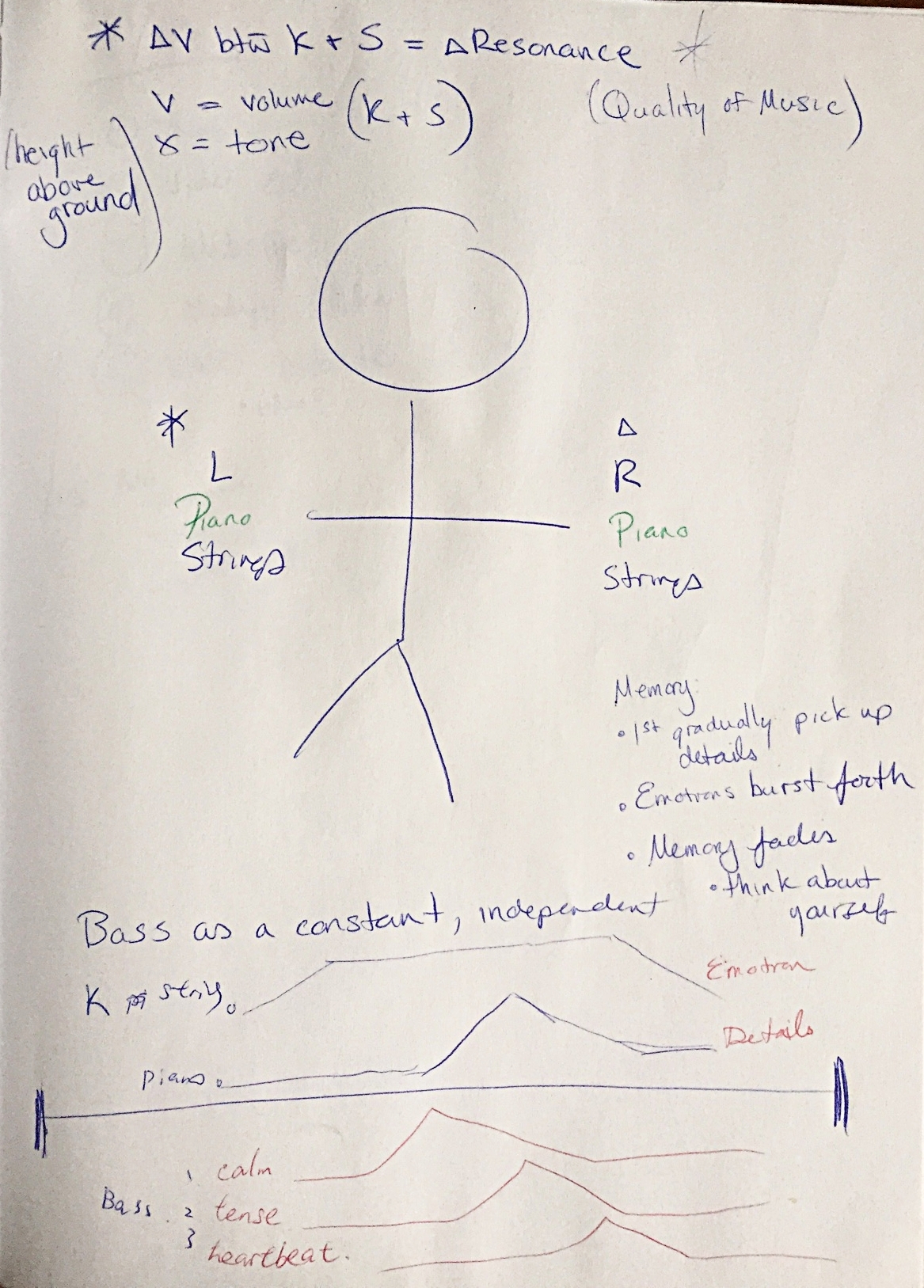 Early stage sound mapping ideation.
Hear and watch a bit of the sound design in process below:
TOOLS: Motion Capture, Unreal Engine, MaxMSP, AbletonLive, Video Projection
ROLE: Producer, Designer, Video Editor
COLLABORATORS: Wenbo Lan, Wangshu Sun, Ido Lechner, Kyla Ernst-Alper, Sylvana Tapia